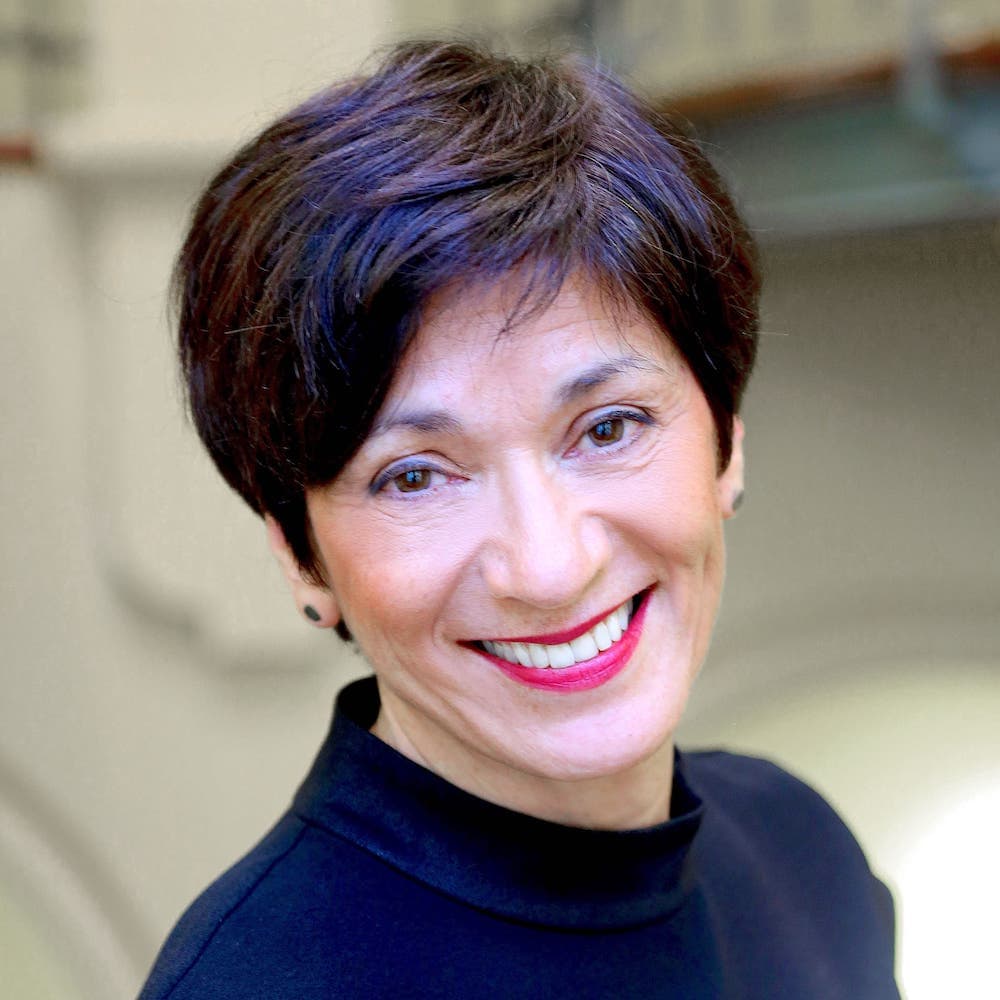 The Norwegian born Jewish actress, musician, director and playwright received her formal training in performing arts in Tel-Aviv and New York and has been working as a concert and stage artist since 1981. She began her career with a leading part at Habima, Israel's national theatre, and continued later to perform on stages in Oslo, including "Nationaltheatret", the Norwegian national theatre. She performed Yiddish songs and stories early on in her career and since 1986 she started to appear in her own monodramas co-authored with the Norwegian stage director Ellen Foyn Bruun. The production company "Teater Dybbuk – Oslo" was founded by her in 1990, with the aim to present European Jewish culture and history through theatre and music.
Numerous dramas, concerts and CDs were produced, and Bente performed for many years internationally with musicians from Norway, Poland, Sweden, Germany and the Netherlands, using archival material as well as her own written texts and compositions.
Bente moved with her family to Wrocław , Poland, In 2001, and in 2005 she created the Center for Jewish Culture and Education in the city's synagogue, the White Stork Synagogue (1829). The following year she established the Bente Kahan Foundation, which became responsible for the culture center and the restoration of the synagogue (completed in 2010), the "shul",(little synagogue, 2015), the "mikveh" , ritual bath, and additional space for the Center in the synagogue's basement (2017/2018).
As a director of Wroclaw's Center for Jewish Culture and Education, she has produced exhibitions and concerts, as well as theatre plays, many of them written and directed by her and performed by Polish artists. The historic synagogue in Wroclaw, serves today as a prestigious cultural venue with events focused on tolerance and diversity, such as the annual "Days of Mutual Respect" initiated by Bente at the inception of the center.
Bente Kahan is still requested to perform internationally as a singer with her wide repertoire linked to the European Jewish experience.
Bente Kahan's Awards:
2019 "International Bridges Prize" The European cities of Goerlitz/Zgorzelec
2017 "Honorary Citizen of Wroclaw" chosen by the Mayor and the City Board
2016 "Verdienstkreuz am Bande" (Order of Merit of the Federal Republic of Germany) Awarded by the president of Germany
2015 "POLCUL" Polish-Australian Culture prize
2013 "Order of the Cavalier Cross of Restored Poland" Awarded by the president of Poland
2010 "Ambassador Wroclawia" (Wroclaw Ambassador) a title chosen by a council of honoraries in the City headed by the local edition of the Polish newspaper "Gazeta Wyborcza"
2010 "German-Polish Silesian Culture Award" Awarded by the local governments of Lower Saxony (Germany) and Lower Silesia (Poland).
2010 "Award for promoting Tolerance", Foundation for Tolerance, Poland.
2006 "Wroclaw Mayor's Award"
2000 "Garantiinntekt for kunstnere", A Lifelong Stipend for Artists by the Norwegian Arts Council. Since living in Poland, she has resigned on this very prestigious honor.
1999 "Josefines Visepris", prize for shedding new light on the European ballad trad, Norway. 
Press Reviews:
"There cannot be many on this earth who can create equally powerful concerts as Bente Kahan." Nordlys, Norway
"Bente Kahan makes her music soar above the stage, like a blue bird of love." Expressen, Sweden
"A touching journey in time and space and back again, into the depths of the soul and heart….."Arbejderen, Denmark
"…beautiful, intelligent…a magnificent artist." Gazeta Wyborcza, Poland
"Bente Kahan is the Diva of Jewish Music." Mitteldeutsche Zeitung, Germany
"One listens with a pounding heart." Die Zeit, Germany
"This is not merely moving, but also uplifting for the heart." Die Welt, Germany
"So much divinity flowed toward her audience on that evening." Berliner Zeitung, Germany
"enduringly impressive" Die Tageszeit, Germany
"An astonishing from the gut performance" Time Out, Great Britain
"The audience went wild, nearly lifting the roof off the theatre" De Volkskrant, The Netherlands
"Sensitive Bente Kahan brings overwhelming beautiful performance" Zwolsche Courant, The Netherlands
"With stunning artistry…magnificent monodrama.." The Jewish Press Magazine, USA
"…marvelous performance…" Jerusalem Yad Vashem Quarterly Magazine, Israel