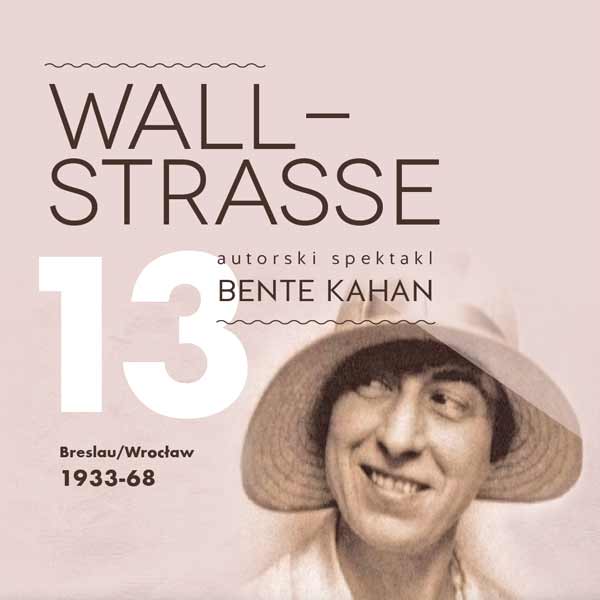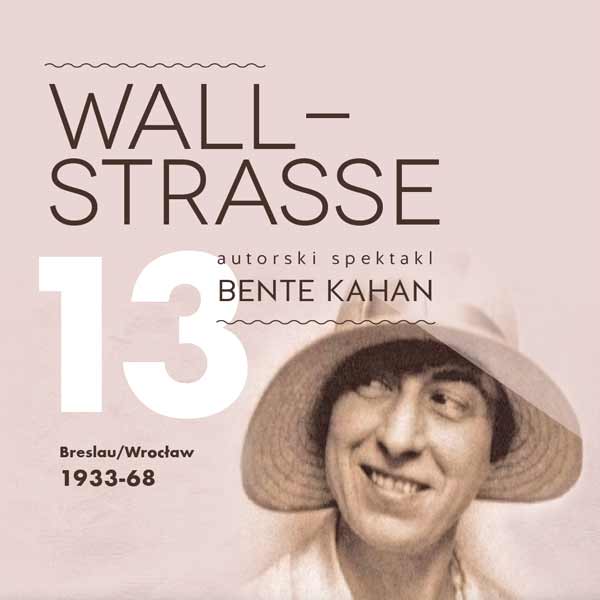 Theatre Play
Wallstrasse 13
written and directed by Bente Kahan
Scenography: Anna Weber/Helge Hoff Monsen
Premiered with:
Barbara: Marzena Oberkorn
Mother/Singer: Dorota Abbe
Father/Werner/Theatre Director: Igor Pietraszewski
Musicians:Tomasz Kasiukewicz, Igor Pietraszewski, Artur Dominik, Jacek Wegrzynowski
Still being performed in The White Stork Synagogue, Wrocław with following cast:
Barbara: Marzena Oberkorn
Mother/Singer: Anna Błaut
Father/Werner/Theatre Director: Piotr Łukaczyk
Musicians: Tomasz Kaczmarek and Mateusz Rybicki
The Norwegian version with Bente Kahan as Barbara, while in German, she  performed the play as a monodrama.
---
"Wallstrasse 13" links present reality with a powerful past.
The Polish, Jewish character Barbara (a ficitve character), is born in a townhouse in Wroclaw on Wlodkowica Street 13, formerly Wallstrasse 13 in the German city Breslau. In 1968, 10 years old, she leaves Poland because of an anti-semittic campaign organized by the communist regime. Her father remained in the country, and first when he dies, Barbara returns to her hometown. She is then a grown up woman, and is suddenly confronted with her and her parents past through documents and photos found in her father's flat. A photo leads her also to Leontine Dambitsch, the flat's pre-war resident. The audience is witness to Barabra's determination to confront the past and to recreate the dramatic human lives and times that came before her.
We join Barbara on a historical journey through the German Jewish community of Breslau in the 1930's and the Polish Jewish community of Wroclaw in 1946-68.
A wide variety of archival material, as well as photos from private albums, are presented on a multi-media set during the performance.
Repertoir from the "Breslau Jewish Culture Guild" (1935-41) and the "Yiddish Theatre of Lower Silesia" (1946-68) including songs in German, Yiddish and Polish, are integral parts of the play.